ROB ALLEN 5MM GREEN CAMO WETSUIT [Size: M]
SKU: RAW5NM
View more products from Rob Allen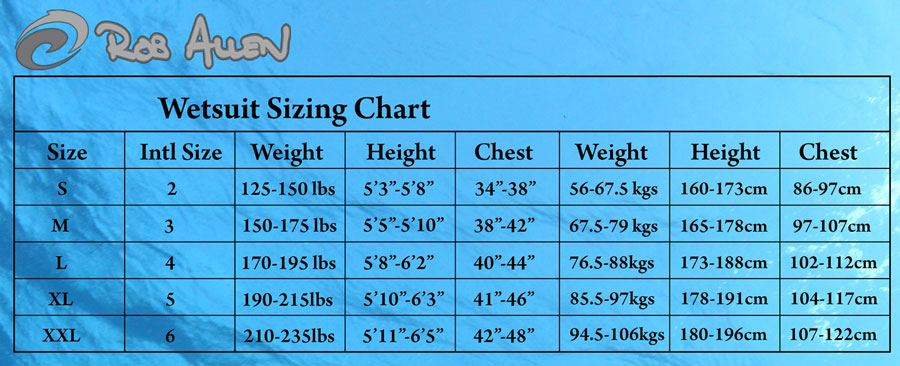 *Mask, Gloves and Booties not included*
Rob Allen is globally known for his quality approach to no nonsense practical and effective spearfishing products and his wetsuits are no exception. After years of having one of the most sold spearfishing wetsuit ranges Rob Allen and the team have spent a great deal of time evolving the camo patterns and materials to produce a wetsuit worthy of the Rob Allen name. When the Rob Allen team releases a new product, it's worth paying attention because its sure to be a well thought out product of the highest quality.
The latest camo pattern has focused on the change in light levels during the dive and variations in colour and texture of the hunting environment to help you stay hidden for longer. This allows us to get the full effect of depth transition. The wetsuit has distinct zones of light and dark to further break up the diver's profile and give a 3D effect when hunting.
The mixture of light and dark brown, grey and green work together to conceal the hunter perfectly when hunting in temperate reef waters chasing tasty reef species from the coral reefs of the Queensland coast to the kelp beds and rocky outcrops of Victoria and WA this suit will help you blend into the structure and get closer for that shot of a lifetime.
With a great new camo pattern, you need the best fit to maximize comfort and warmth. Rob Allen has combined his new camo pattern with Yamamoto JAPAN 39 cell neoprene. Yamamoto produces the highest quality Neoprene in the world with unique benefits such as:
Open cell structure: The cell structure maximises the thermal efficiency of the neoprene keeping you warmer and more comfortable for longer, its lighter weight and greater structural strength resist compression better than other suits on the market.
ECO rubber Unique in the fact it is made from the purest grade of limestone found in Japan. its more ecologically sustainable than oil based neoprene and is less likely to cause skin irritations than other neoprene types. This raw material along with the latest production process makes a warmer and lighter weight suit than what was previously possible.
The combination of high quality manufacturing process, design and the best raw materials in the industry create a suit that is warmer and more flexible.
A lot of time has been spent on refining the suit pattern to take advantage of the new Yamamoto 39 neoprene making the suit more comfortable and flexible so you can focus on what is important, being relaxed and hunting that fish of a lifetime. The pattern has been slimmed down and the preformed anatomical cut of arms and legs has been revised. The revisions add up to a more relaxed position in the water reducing the energy you burn during the dive and helping you to dive at your best for longer, increasing your chances of success.
With a loading pad that takes the sting out of today's modern and powerful railguns,
The overall fit, warmth and comfort of a wetsuit has a big impact on your diving enjoyment and success, if your cold, cramped or uncomfortable its had to stay relaxed and alert for that next fish.
From the top Queensland through to the tip of Tasmania and the far West Coast the new range of Rob Allen suits will keep you warm, comfortable and concealed. helping you enjoy your dives and land those elusive species we all dream of.
Features:
Comfortable 5mm Yamamoto 39 neoprene perfect for temperate to cold water diving
Smooth open cell inner for warmth and comfort
High stretch camo outer.
Slim preformed anatomical cut to maximize comfort
Large comfortable loading pad
UV resistant stitching with Latex Dot seam terminations
The latest in camo technology from Rob Allen
| | |
| --- | --- |
| SKU | RAW5N |
| Brand | Rob Allen |
| Shipping Weight | 1.0000kg |
| Shipping Width | 0.500m |
| Shipping Height | 0.400m |
| Shipping Length | 0.500m |
| Shipping Cubic | 0.100000000m3 |
Mrdive offers incredibly competitive rates for customers inside Australia. From our base in Melbourne, we aim to get your order to your doorstep no matter where you are across Australia in the quickest timeframe possible, within 15 days.
You don't have to take our word for it though - once you've ordered you'll be able to track your order with the courier company bringing your purchase to you!
Shipping costs vary depending on the weight of your order and your location in Australia. The shipping calculator will give you an idea of the lowest and highest prices you can expect to pay.
Customer Reviews
Average Rating :

(0)
Be The First To Review This Product!
Help other Mr Dive users shop smarter by writing reviews for products you have purchased.